Bringing happiness to the world




Our response to COVID-19
Mimatsu's Prevention Measures
1. Employees must wear masks while at work.
2. Employees have their physical condition checked every day (by body temperature measurement, etc.), and employees who are ill do not work.
3. Employees working in the kitchen wear gloves as well as masks when cooking.
4. Alcohol disinfection: We use alcohol to thoroughly disinfect guest rooms, room keys, and slippers, as well as common areas such as the lobby and elevators.
5. In public spaces such as the lobby, we have reduced the number of chairs and spaced them farther apart.
6. We have installed a slipper sterilization box in the common bath, have staff make regular patrols, and request that guests avoid the "Three Cs" (closed spaces with poor ventilation, crowded places with many people nearby, and close-contact settings such as close-range conversations).
7. Dining areas are normally restricted to guest rooms and private rooms, but when dining in the dining hall, we maintain intervals of at least 2 meters. Once a table is used by a guest group, it will not be available to other guests until the first group checks out.
Requests to Guests
1. Cooperation with temperature checks.
2. Show government identification when checking in.
3. Wear masks in public spaces.
4. Wash hands and disinfect with alcohol as needed.
5. Notify the front desk if you feel unwell.
6. Use of common baths by non-guests is restricted in order to prevent the "Three Cs."
What kind of place is
Hokuriku Awara Onsen?
Easy access from the Kanto, Kansai, Chubu, and Hokuriku (Kanazawa) regions

Make Hokuriku Awara Onsen Mimatsu your home away from home for journeys in Japan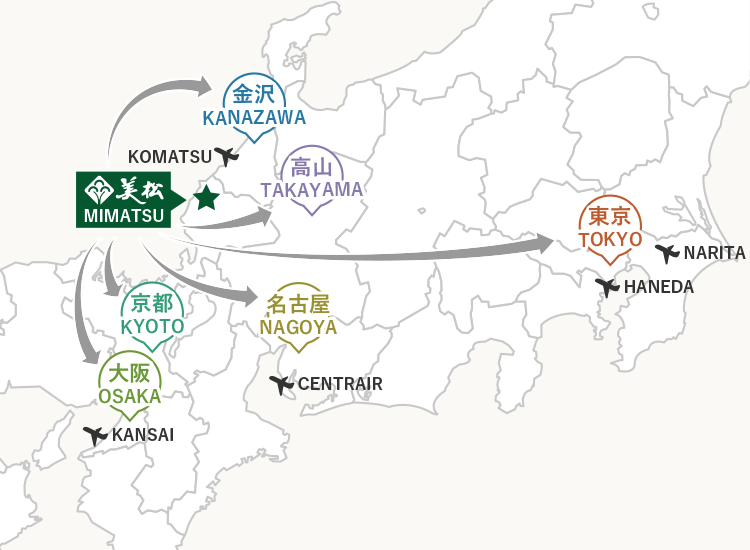 Hokuriku Awara Onsen's location is roughly in the center of Japan. Hokuriku Shinkansen Awara Onsen Station is scheduled to open in the spring of 2023, making it accessible from Tokyo in 2 hours 53 minutes.
With Mimatsu as your home away from home, you can enjoy your journey in Japan to its fullest, including Mimatsu's rooms, baths, and meals.
MimatsuTokyo
By plane

Approximately 1 hour 30 minutes (from Haneda Airport)
By train

Approximately 4 hours
By car

Approximately 6 hours 30 minutes
MimatsuNagoya
By train

Approximately 2 hours 30 minutes
By car

Approximately 3 hours
MimatsuOsaka
By train

Approximately 2 hours 15 minutes
By car

Approximately 3 hours 30 minutes
MimatsuKyoto
By train

Approximately 2 hours
By car

Approximately 3 hours
MimatsuKanazawa
By train

Approximately 40 minutes
By car

Approximately 1 hours
MimatsuTakayama
By train

Approximately 3 hours 50 minutes
By car

Approximately 2 hours 30 minutes
Hot spring fed from a private source
See the waterfall, the dome that opens and closes, the open-air garden bath, and the large common bath…
Try different baths in Mimatsu, and enjoy everything Awara's famous hot springs have to offer.
We offer two large hot spring baths for your enjoyment, available to guests of different genders at different times. Enjoy the wide-open space of the domed "Taiyoden" (or "sun palace") and the large crescent shape of the "Meigetsuden" (or "full moon palace"). The Taiyoden also adjoins a stone-ringed, open-air bath.
In these two large common baths, you can enjoy hot springs filled from a private source of spring water to your heart's content.
Various types of guest rooms
Enjoy an open-air bath in your room, fed from a private hot spring source
in the high-class "Bettei Biyu" villas and guest rooms with open-air baths
You can enjoy Mimatsu's private source hot spring any time from check in to check out, in the privacy of your own room. The shapes, materials, and colors of each open-air bath vary from room to room, and include cypress, ceramic, and stone baths.
Bettei Biyu
(8 Japanese and Western special villas with open-air garden baths)
Bettei Biyu is a very special and relaxing place built with an emphasis on private space.
Come relax in the wide and spacious room, as well as the atmospheric open-air hot spring bath.
Guest rooms are also equipped with shower rooms.
In addition, we offer a dedicated lounge and dinner course of "Biyu Kaiseki," only available to guests staying in Bettei Biyu.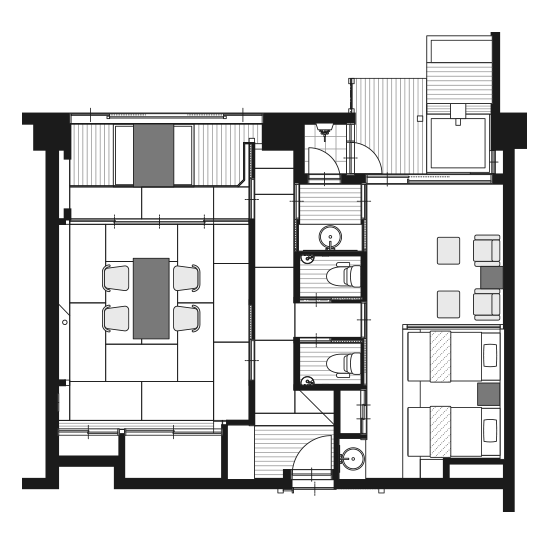 Capacity: 1 to 5 guests (varies by room)
Room Area (*not including open-air bath): Approximately 63 to 65 square meters
Guest rooms with open-air hot spring baths
(28 rooms)
We offer both Japanese and Western style rooms with open-air baths, overlooking the corridor gardens and the countryside of Awara.
The open-air baths are made with different materials depending on the room, including cypress wood and ceramics.
A private hot spring source is used for the baths, so you can enjoy leisurely relaxation without worrying about the time.
We also offer paired rooms connected to each other, accommodating groups of 4 or more.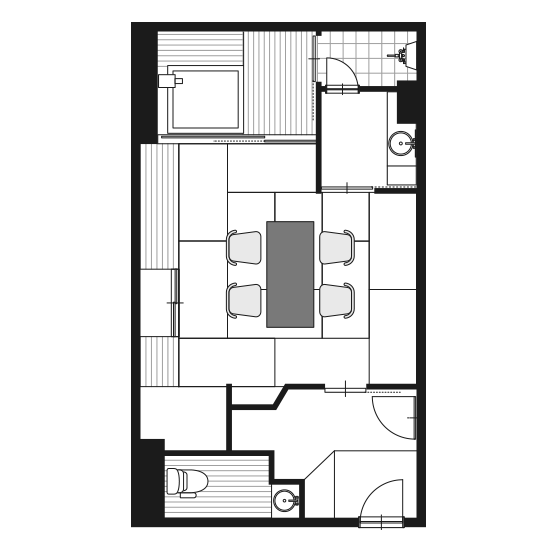 Capacity: 1 to 4 guests / 1 to 2 guests (varies by room)
Room Area (*not including open-air bath): Approximately 16.5 to 20 square meters
Laundry bag
Toothbrushes
Hand and face soap
Cleansing lotion
Shaving razors
Hair brushes
Body soap
Skin lotion
Lady's set
Shampoo
Conditioner
Women's choice of yukata (only for female guests staying overnight in guest rooms with open-air baths)
In addition to Bettei Biyu and guest rooms with open-air baths, we also offer Japanese style rooms, universal rooms, business rooms, and other general guest rooms.



Seasonal dishes made using the freshest ingredients
We serve seasonal dishes made only using locally-caught ingredients, including Wakasa beef,
as well as fresh seafood such as Echizen crab, Wakasa flounder, and pink shrimp.
Our hotel chefs make full use of their skills to prepare meals using locally-caught ingredients.
Enjoy fresh seafood, including top-brand Echizen crab (only in winter) and the pride of Fukui, Wakasa beef, which is made using only meat with a quality grade of 4 or higher.
You are sure to love the breakfast as well, and it will look great on Instagram.






Enjoy our on-site facilities as well
In October 2020, we opened a "Charaku Kaguya" tea room in our lobby!
Admire the corridor garden and have a wonderful time enjoying Japanese tea and sweets.
The long-established tea shop "Charaku Kaguya" is a store specializing in Japanese teas, and has opened a branch store in "Tokiwa," a corner of the Mimatsu lobby. Here you can enjoy authentic Japanese tea and sweets while admiring the corridor garden.
Enjoy a wonderful view of the Japanese garden, which features trees raised with the utmost care, a pond with koi swimming leisurely about, as well as stone lanterns and an arched red bridge.




We have installed ostomate-friendly toilets, and we also offer maternity and children's product rentals.
We are working to ensure all of our guests can use our services with peace of mind.
Tourism Information
Click here for tourist information about the surrounding area.
Photo Gallery
All

Cuisine

Hot Springs

Facilities









Access
Hokuriku Fukui Awara Onsen Mimatsu
Address

26-10 Funatsu, Awara-shi, Fukui 910-4105
TEL

+81 776-77-2600

Japan Time: 9:00 AM - 8:00 PM
Contact Us
Please direct any questions or concerns to us using the contact form below.
Enter the required information, then press the confirm button.
Fields marked with an * are required.